Now playing: Resident Evil: Afterlife & Stone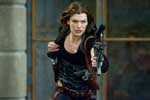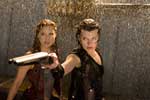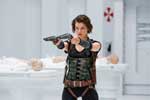 12.01.10 - Milla and daughter Ever at "Yo Gabba Gabba! Live! There's A Party In My City" Saturday in Los Angeles:
Singer performing Diva Plavalaguna's "Diva Dance" from The Fifth Element and original video for comparison from JoBlo.com:
At the time, singer Inva Mula reportedly claimed that composer Eric Serra's music for Diva Plavalaguna's "Diva Dance" was not humanly possible to achieve -- Mula's notes were strung together digitally for the scene. But Badass Digest dug up this vid from a couple years ago, in which an extraordinary singer essentially proves the impossible to be otherwise.
What's New for 2013: Jan | Feb | Mar | Apr |
What's New for 2012: Jan | Feb | Mar | Apr | May | Jun | Jul | Aug | Sep | Oct | Nov | Dec
What's New for 2011: Jan | Feb | Mar | Apr | May | Jun | Jul | Aug | Sep | Oct | Nov | Dec
What's New for 2010: Jan | Feb | Mar | Apr | May | Jun | Jul | Aug | Sep | Oct | Nov | Dec
What's New for 2009: Jan | Feb | Mar | Apr | May | Jun | Jul | Aug | Sep | Oct | Nov | Dec
What's New for 2008: Jan | Feb | Mar | Apr | May | Jun | Jul | Aug | Sep | Oct | Nov | Dec
What's New for 2007: Jan | Feb | Mar | Apr | May | Jun | Jul | Aug | Sep | Oct | Nov | Dec
What's New for 2006: Jan | Feb | Mar | Apr | May | Jun | Jul | Aug | Sep | Oct | Nov | Dec
What's New for 2005: Jan | Feb | Mar | Apr | May | Jun | Jul | Aug | Sep | Oct | Nov | Dec
What's New for 2004: Jan | Feb | Mar | Apr | May | Jun | Jul | Aug | Sep | Oct | Nov | Dec
What's New for 2003: Jan | Feb | Mar | Apr | May | Jun | Jul | Aug | Sep | Oct | Nov | Dec
What's New for 2002: Jan | Feb | Mar | Apr | May | Jun | Jul | Aug | Sep | Oct | Nov | Dec
What's New for 2001: Jan | Feb | Mar | Apr | May | Jun | Jul | Aug | Sep | Oct | Nov | Dec
What's New for 2000: Jan | Feb | Mar | Apr | May | Jun | Jul | Aug | Sep | Oct | Nov | Dec