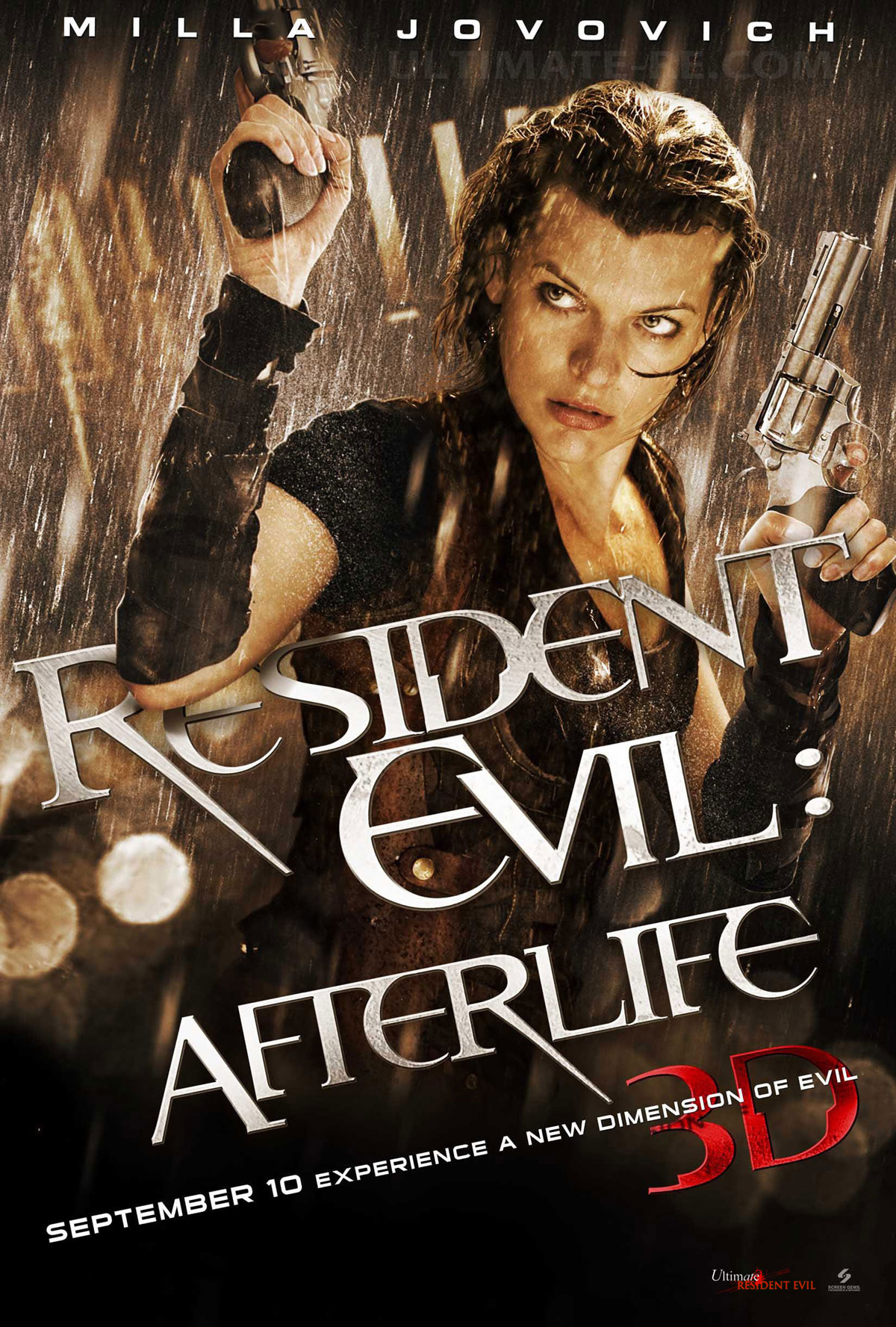 Resident Evil: Afterlife (2010)
About the film . . .
Fourth of 6 Resident Evil films. Prequels: Resident Evil (2002), Resident Evil: Apocalypse (2004), Resident Evil: Extinction (2007); Sequels: Resident Evil: Retribution (2012), Resident Evil 6 (2014)

Release date: September 10, 2010 (US) (all international release dates)

Official website: residentevil-movie.com

Resident Evil: Afterlife will be shown in 3-D and IMAX

Milla's character Alice wears Jovovich-Hawk clothing in Resident Evil: Afterlife

Plot summary: In a world ravaged by a virus infection, turning its victims into the Undead, Alice continues on her journey to find survivors and lead them to safety. Her deadly battle with the Umbrella Corporation reaches new heights, but Alice gets some unexpected help from an old friend. A new lead that promises a safe haven from the Undead leads them to Los Angeles, but when they arrive the city is overrun by thousands of Undead and Alice and her comrades are about to step into a deadly trap.



TV ads for Resident Evil: Afterlife:





Resident Evil: Afterlife press conference in Tokyo, Japan, September 3, 2010:

Resident Evil: Afterlife premiere in Tokyo, Japan, September 2, 2010:

Comic-Con International: San Diego 2010, July 24, 2010

Milla, director Paul W.S. Anderson, and Ali Larter presented the 3-D trailer for Resident Evil: Afterlife on April 2, 2010 at WonderCon 2010 in San Francisco!

From Milla's Twitter (@MillaJovovich):

I hadn't seen it w all the effects yet, OR in 3D, so it was incredibly exciting! It looks SICK!!!!!!!! WHAT?!!!! AHA, YEA BAEEEBBAAAYYY!!!!!
WOW!!! That was awesome! We jst PREMIERED the RE4 teaser at Wondercon in san francisco and it ROCKED!
We had SO MUCH fun at wondercon! Ali,Paul & I talked to a GR8 panel of ppl! Thank you guys so much 4 your enthusiasm and support of RE!!!!

Press:

Twitter chat with fans about Resident Evil: Afterlife (hosted by IGN), September 7, 2010

ComputerAndVideoGames.com: Milla discusses fans of the Resident Evil video games and how they see the films

Was there a backlash from hardcore fans who were upset that Alice didn't originate in the game?
Oh yeah, there are, like, 15 people in the world that spend all day really hating me. Like horrifically hating me with a passion. They're always writing. I tell them: "Why don't you just write a script?" But if you ask one hardcore fan about something, they'd disagree with that hardcore fan over there. Another hardcore fan might think the hunters should have been in the movie. And what are the hunters? They're big frogs. There are a lot of characters in the Resident Evil games that are not very photogenic.

The stars of Resident Evil: Afterlife read lines from the original video game:

Reuters interview about Resident Evil: Afterlife:

Q: How have you seen women from different cultures react to the "Resident Evil" films over the past decade?

Milla: "In Japan, literally 95 percent of the viewers are girls that go see these movies, and in America it's the opposite. Girls in Tokyo really, really need these strong role models, where I think women in America think the films are too violent. Japanese girls are normally so polite and so quiet that they need that outlet."

Q: What did having a larger budget with this fourth film open up creatively?
Milla: We were able to film in Tokyo, Los Angeles, Alaska and Toronto, which really gives the movie this big feeling that we never had in any of the films. All the other films always took place in one location. Because we were able to go to all these different places, it's very different visually and the stunts are just bigger, and the characters are just wonderful. You get a chance in this movie to take some time with characters. It's not just action, action, action."

[ complete article ]

The Toronto Star interview about Resident Evil: Afterlife:

Resident Evil: Afterlife

: "I love all the training it's given me in martial arts. I've gotten a really beautiful collection of swords, and I live with and am married to the creator of the franchise."

[ complete article ]

Parade article about Resident Evil: Afterlife:

Putting Alice's superpowers on hold:

"Paul and I had a bit of an argument about that. I was sort of whining, 'I don't want to give them up.' And he's like, 'Put your superpowers away, okay?' I was all into being a superhero and just doing bigger and badder things. And he's like, 'How is an audience going to really relate to you or have fear for you when all you need to do is blast everything away with your psychic powers? I want you to get your hands dirty again and really fight.' I think he was totally right to make me vulnerable in this one."

Channeling Clint Eastwood and Steve McQueen: "On the first Resident Evil, Paul was talking to me about actors to draw from, and he was mentioning male action stars like Steve McQueen, Charles Bronson and Clint Eastwood. I didn't completely get it. I remember going to do some recording for the second movie and my voice freaked me out because it sounded so girly. So I ended up lowering it and re-recording the whole movie. It really changed everything because I seemed completely different. So that's when I channeled Clint and Steve to find Alice."

[ complete article ]

Jimmy Kimmel Live!, September 8, 2010 [ full episode ]:

Resident Evil: Afterlife interview with Milla and Ali Larter about their weapons of choice from MTV:





Fangoria interview [ Full article ]:

FANGORIA: Do you see Resident Evil: Afterlife as the best of the four RESIDENT EVIL movies? MILLA JOVOVICH:

Definitely. The setpieces are incredible, the characters go through so many different worlds within this one movie -- it's going to be super-exciting for the audience. On the last film it was pretty much one place; it was the desert all the way through. And even though it was great and it was the best one until then,

Resident Evil: Afterlife

really takes you to so many different sets, and you think you've gotten used to something and boom! You're somewhere completely different than the last place.

FANG: What appeals to you about playing Alice?
JOVOVICH: She's just so cool. I love the action, training, flying elements...I love doing wirework. She's like the female Clint Eastwood or Dirty Harry. It's really nice to see a woman playing a part like that, and different. It's usually the femme fatale kind of action stars, and she's not that. She's hot, but she's definitely more of a Dirty Harry than an X-Man or Marvel girl. She's down to earth.

FANG: Is it a trip having Paul involved again as director?
JOVOVICH: Well, Paul's involved in every movie. This is his baby, in a sense -- he's written and produced all of them, [helped] with the editing. Especially on the first and the third, he was there every step of the way. The first one he obviously directed, and the third he was there every day...he has always been such an integral part of all these films. I don't think you could make them without Paul. Or someone could, but they wouldn't be what they are now. It's great, because it's a family affair at this point.

[ Full article ]

3D press conference from Los Angeles held for the Spanish Press at Berlanga Cinemas on August 27, 2010 in Madrid, Spain:

Paul W.S Anderson discussing Resident Evil: Afterlife and 3-D filming with CraveOnline.com:

"Definitely it's nice coming full circle talking about wanting to make the movie and being excited about making it in 3-D and now actually having shot the movie. I literally just came from finishing the film last night. It really is the best Resident Evil yet. I'm very, very proud of it. I'm excited about it because I do think 3D is the future of cinema entertainment, and home entertainment as well. I just came form Japan and saw the new Bravia 3D TVs. They're unbelievable so I'm very excited about that, but it was funny because we finished shooting Resident Evil in December and still 3D wasn't anything special. It was like well, that's kind of interesting, 3D. Then Avatar came out. Suddenly January 1st back in Hollywood it was like, "3D! Raaaa!" Everything had to be 3D. We just continued making our movie. I think the interesting thing is really it's going to be the first proper live action 3D movie of the year. I don't think anyone's really seen a proper 3D live action movie since

Avatar

. I think Imax is a good example of that. Imax are very picky about the movies they put on their screens, especially the 3D ones. They very, very rarely go with R rated movies. I think

Watchmen

was the last R-rated Imax movie and that's really only because Imax have a huge relationship with Warner Bros. because of all the

Harry Potter

movies. For Imax to endorse this film by putting it onto 3D Imax screens is a huge thing. The only reason they're doing it is because they know how good it looks. We are actually the first to edit fully in 3D as well. So in the cutting room, we were wearing the glasses and on the set we were wearing glasses. I spent my life wearing these glasses. I wish someone would design something slightly more fashionable than my dad's '80s Ray Ban look but I'm sure that's going to come."

"I'm spoiled working with Ali and Milla because they're just not divas at all. They turn up for work, they're in a great mood, you beat the hell out of them, you send them home with bruises. They come back the following day. They go, "Yes, sir. What would you like me to do now?" They're lovely to work with. They're very committed and they're so not divas. The 3D cameras because were the ones that never wanted to work and always had problems. It was fun being on the cutting edge of technology because I really feel that this is something, it's the equivalent of sound coming in or it's the equivalent of color photography coming in. I think these changes in cinema only occur once every 40 or 50 years and it's exciting to be a filmmaker working on the cusp of one of these big changes. Certainly the easier and cheaper way would be to just shoot it 2D and dimensionalize it but that bandwagon is going to crash and burn pretty soon because once people start getting used to the new wave of 3D movies - Resident Evil, Pirates of the Caribbean - all the big ones are being shot real 3D, Scorsese's new movie."

Q: How were things different working with Milla this time, the fourth installment and with your personal relationship?
"Well, we've obviously made four of these movies together. We've been together for all the films. The change this time was we had a daughter. It was one of the pleasures of making the movie to be honest, was getting to have my family around me at work and then at home as well. Milla's a very serious actress and she takes her craft very seriously. She's very committed to the work she does. We don't really let our personal relationship affect the set at all. So it was a delight really. The thing about us is we love what we do. We both love filmmaking and we both love Resident Evil. So we take our work home with us and we talk about it when we're lying in bed. It's fantastic. It's great to be able to combine your work life and your personal life like that."

Paul W.S Anderson discussing Resident Evil: Afterlife with Collider.com:

The first movie was like a chamber piece of horror, as the games evolved, they folded in bigger and bigger action. That's the direction the game franchise went in, and so have the movies. As the action gets bigger, obviously the munitions get bigger as well.

Your films have a lot of characters from the games, but you're taking them in different directions in your storylines. Has Capcom said anything to you about the changes you've made?
"I always run the stories by them. They read the scripts and give their comments. I would never want to kill a character that they really want to use in the next game. So, we're absolutely very respectful of the world of the video game. Although we're telling new stories and introducing new characters, I've always felt that that is what the video game does itself. One of the reasons why Resident Evil is a very successful video game franchise, much more so than a lot of others that have fallen by the wayside, is that they have constantly evolved. After the first one, and everyone loving those characters, they introduced a completely new set of characters. It's that kind of re-invention and re-imagining that has kept the video game franchise strong and alive, and that's what we do with the movies. It's in the world of Resident Evil and it has characters from the world, but each film has new characters and new storylines."

Milla discussed working with husband Paul W.S Anderson on Resident Evil: Afterlife with Total Film:

"Paul is so into it. He loves what he's doing. You'll do something and you'll hear from the monitors, 'Yeah!'. When we're on the film, that's all we talk about, how to make it better. We have a very creative relationship. It's a lot of fun because what's a relationship if all you're doing is cooking and going to the movies every Friday night? We're having something that is symbiotic - it's like a continuous card game between us."

About returning to the franchise for more films: "As long as people still want to see them, I think I still have a couple of years in me. And as long as I still look good. It's exhausting on a physical level, generally but it's just really nice to have this kind of film to fall back on. I do a lot of films that are very dark and intense emotionally. If I did things like that all the time I would kill myself."

Entertainment Tonight set visit to Resident Evil: Afterlife:

CraveOnline.com set visit to Resident Evil: Afterlife:

Q: Well, are we seeing a more aggressive Alice?

"Just as aggressive as ever. Always really super aggressive and she still is but now it's even more so. I think there's a relaxation in this one for her as a character that she hasn't had in the other movies because in a way she's earned some freedom. She's taking advantage of it and making some good relationships within the movie."

Q: Is there any other action hero you'd like to play?
"Gosh, I feel like I'm sort of at the limit that I could do action wise. It would be almost disloyal to Alice to be another action Heroine so I'm kind of just doing independent films and comedies and fun things that just help me kind of grow as an actress and get better for the next Resident Evil."

Q: What's next for you?
"Well, I've got a movie that I'm working on right now called Dirty Girl which is fun. It's a comedy, not an adult film, okay? It's with a child. I'm working with a child. I'm working with Juno Temple, Mary Steenburgen, Bill Macy, Tim McGraw, a really wonderful cast of people, really fun. I play Juno Temple's mom which is really funny. I'm like an Oklahoma girl that had a baby at 16. Stone, which is pretty crazy, man. I just watched it the other night actually. It's not for everybody but it's a pretty crazy movie. It's very tense, very dramatic, just deep. It's about a man who's in prison and he's trying to convince his parole officer to pretty much say, "Look, I've done my time. Are you the only one that can judge me? How can you judge me? You've never done anything wrong." It's really talking about good and evil and where we stand in life."

[ full article ]

moviefone set visit:

Milla: "I've been playing all of the clones, which has been interesting but also disconcerting. You're playing to an 'X' over there, and then another 'X' over there. Each clone has its own little personality difference. Also -- the stunts go off the charts in this one."

ShockTillYouDrop.com set visit:

Can you talk about stuff that you get to do in this film that you haven't done before without giving stuff away? You ran down a building, you jumped off a bridge...you've done a lot of stuff already.

"Well, gosh, I mean, this is definitely in my opinion, one of the most unbelievable Resident Evil films that we've shot. The stunts just really take advantage of the 3D medium even though we keep 2D in mind because a lot of people aren't going to be able to either afford a 3D ticket, or they might not have a 3D theater in their town. So we've been very aware that whatever we shoot, even though it's playing to the medium, we don't want to just make a 3D movie. We want to make a movie that's going to look great on TV, that's going to look great in everyone's home."

I thought it was interesting you mentioned a little bit about working with Paul and hammering out the script and maybe hammering out him while he was hammering out the script. But, can you talk a little bit about that and sort of what the back and forth is like with you guys?
"We definitely sit up a lot talking about the script and the story. Definitely it's like, we talk about all the things that I like first and then we get into the things that I'm sort of not totally sure about. Pretty much it's like either he'll really explain a great reason for something and I'll be like, "Oh, okay." Or, if it's something I feel really strongly about he'll go and rewrite it."

ComingSoon.net (April 3, 2010) describes the trailer

FEARnet (April 3, 2010) reports on the trailer being unveiled at WonderCon 2010.

Milla: "It's Resident Evil, man. It's my brother's favorite video game! What's amazing about Resident Evil is you get a chance to do a really great story and have fun. It's like going to Disneyland or going to Magic Mountain. It's fun to make a movie where you're flying and you're kicking butt and you're training and you're doing so much stuff that you would never do..."

FEARnet (April 4, 2010) set visit and interview with Milla:

Do you enjoy being back on the Resident Evil set?

"I have an incredible life. I get to come to this set every day, act like a kid... everyone feels like a kid on this set. Guns are going hot! Zombies are coming out! You've gotta love it. We have the family together, we get to spend so much time with our baby. I have friends who hardly see their kids until the weekend. We get to see our daughter every day at lunch, and every night before sleep. We have her on LA time, so she gets to stay up later. By the time we get home from work, we have a few hours to play. It's hard when we are both working on separate projects. Next year when I go off on a new project, daddy's not going to be there. It sucks."

How different is it for you to shoot in 3D?
"It's pretty interesting. I got punched in the head the other day because you have to get super-close to make [a shot] work. In a normal 2D screen, you aren't seeing the same depth, so they don't see that a punch is a complete miss."

iF Magazine (April 3, 2010) asked Milla about the possibility of more Resident Evil films:

"I have a lot left in me, but it is really up to the fans. If they think I look good and they believe it and love it... I will make as many Resident Evil films as they want me to make. What makes these films special is that they are made such love and so much passion from everyone involved. Each film stands on its own. The films aren't made on a business level. It's not about the studios asking us to write another script. The script comes from ideas of creators and we bring it to the studio. It always comes from the inspiration and that's what's fun."

UGO.com (April 3, 2010) set visit and interview with Milla discussing changes to the Alice character:

"Yeah a little bit, but I think the interesting thing about this movie is, which is one of the arguments I had with Paul, she loses her powers in this movie. It's actually a really great thing because in some sense it makes her human again which is what she always wanted. It also gives her a sense of relief to just be a badass again and not have to be a superhero and I think that shows throughout the rest of the movie a joy of just being herself again."

SCI FI Wire (April 5, 2010) interview with Milla discussing how Alice has changed:

"She's nicer, I think,. She is a nice person, and she's fun. I think now that she's defeated the control that Umbrella has on her; she's kind of more of a regular person in the sense that she's not so scared to make ties with people and become friends with people because she knows that they're going to be killed by Umbrella if they're close to her. It gives her a new freedom as a human being to just be more open to people around her, which I think is great, because the last few films, she has been so closed off and trying to deal with the virus and deal with this satellite control that they have, so it's made her much more of a loner. I think in this one she opens up more and is able to accept people into her life, which is wonderful."

MTV interview with Paul (April 2, 2010):

You've worked with your lovely wife Milla on all these films, but this is the first Resident Evil you've shot since she gave birth to your daughter. Now that she's a mom, was Milla less eager to do some of the more hard-core stunts?

"No, it was the other way around, in fact. I have to keep her away from dangerous things on the movie set, because she'll do absolutely anything and wants to do everything. There'll be times when I say, 'Look, you just cannot do this.'"

Over the course of these movies, she's done some pretty insane stuff.
"There's no stopping her. She is fearless, and she is very committed. That's the great thing about Milla -- she really commits to what she does, and that's why I think she is so good in these movies; she sells the reality of it. She's there, 150 percent. She believes in the characters, she's committed to the films and she wants to really deliver for the audience."

It must help you save a few bucks on stunt women.
"Well, she knows she can do it, and when you see her face doing it she delivers. She does it better than any stunt woman, that's for sure. All the stunt women we work with are great, and sometimes you do have to use stunt women because things are so dangerous that you would never want to put your leading actress in that position. You'd be irresponsible to do it. So yes, we have stunt women, but they mostly just sit around and watch Milla do it. She's an amazing, versatile actress."

Bloody-Disgusting (April 5, 2010) set visit and interview with Paul discussing the game's influence on the film:

"I was writing the script before the game came. Once the game came out, it had huge elements that were already in the screenplay. Capcom is so funny. Every time I go to Japan and meet Capcom, it's like seeing the Umbrella Corporation. They won't give you straight answer about anything. So I kind of new they would tell me that Wesker was in the game, kind of, but never really confirming it. Sure enough, he was the main villain and he was the main villain in the movie, as well. Completely by coincidence, a large chunk of this movie takes place in a big ship and there was the ship in "Resident Evil: Retribution". We have an awful lot of stuff that they already put into "Resident Evil: Retribution". So I did a whole big pass on the script to bring it more in line with the imagery from the latest game because I felt the latest game was fantastic. I think it kind of reinvented the video game franchise. I wanted to take a lot of it, frankly, kind of steal from it and put it into the movie. There is a whole fight scene with Ali Larter and Wentworth Miller that's taken almost shot by shot from "Resident Evil: Retribution". It's the one when Chris and Shiva are fighting Wesker. So we're putting Claire in there instead so it's brother and sister fighting against Wesker. So what's great in the game is its one continuous shot where the camera rotates around Wesker fighting the two and he kicks their asses. They never cut which of course, you can do in animation. It's a bit more difficult in live action. Se we're probably going to shoot the fight in 10 different segments then seam it together in visual effects. So the finished effect will be as if the camera never stops rotating around."

JoBlo (April 6, 2010) set visit:

The movies are loaded with creatures and monsters - what's your favorite in this one?

"My favorite so far is The Axe Man. Well, The Executioner. We call him The Axe Man just because everybody here worked on SILENT HILL. (Laughs) The Executioner is this really great 8-foot-tall boxer named Ray. He's really cool, just an amazing figure. Just this big, strong dude with a big ol' axe and a big ol' pounding hammer on the other side, with a bag over his head and a beer belly, just nasty. He attacks Claire and I in the prison showers."

Are you a gamer?
"No. I mean, I can be a gamer at times, but I'm more into "The Sims". But since the baby... I can't play a game, I get way too into stuff, you know, when I first get it I'm like "Ahhhh!". Then four months later I'm in Sims World. So yes, since the baby I've had to lay off the video games. And plus, when I have time on my hands, I like to do other stuff."





About training for Resident Evil: Extinction (Maxim (US) September 2009): "I do a lot of training for these films so I can do my own stunts. I think fans of Resident Evil love to know that it's really me doing everything. I definitely want to give that to them."

Milla discussed Resident Evil: Afterlife with ShockTillYouDrop.com:

"There's a great script and it's going to be pretty wild. It's going to be in 3D," she said diplomatically. "They figured out a lot of stuff. We start shooting in September, they've got it all figured out at this point."

She was a little more candid when asked about what convinced her and Anderson to return to the franchise for a fourth time. "The movie makes money," she admitted. "If it makes more money than the last one, you'd think that people want to see another one, so we'll do another one. There's been a lot of interest online, there's been a lot of letters from fans. It's not like I said, 'Hey, honey! Let's do another one right away!' I mean, it's an expensive film and it's all business and if the third one didn't do well, there wouldn't be another one."

Anderson has really been getting prepared to make his return to directing the franchise since the first movie, especially with the 3D factor being added to the equation. "He's been really studying it and seeing all the different things they have and watching every 3D movie ever made pretty much," Milla told us. "Especially for a movie like this, because it's wild and a lot of action and a lot of potential for 3D to use the medium at its best. Paul has been going to every 3D company and he's now signed a deal to go with Jim Cameron's 3D company -- they did Avatar -- It should be pretty interesting. I've never actually seen a 3D movie."

Interview with Paul W.S. Anderson from Comic-Con in San Diego, July 23, 2009 from IGN.

Director Paul W.S. Anderson spoke to IGN about what's happening with Resident Evil: Afterlife (December 18, 2008):

"I'm writing a script right now. The script side is happening. It's going to be difficult what's happening when until the whole SAG [strike] thing is resolved. But that's something I'm working on right now. Everyone at [game developer] Capcom has had their input into the idea and they're all very excited. I don't want to tell you what it is but it's very exciting. Once again we're doing it completely with the blessing of the videogame company. We got a lot of flack [on the sequels] for, 'Why isn't the movie set in the mansion just exactly like the very first videogame?' That's just not progression for me. As the Resident Evil videogames themselves have developed in leaps and bounds -- it's like when we did the last movie people were like, 'Resident Evil doesn't take place in the desert. What the (expletive) is this?' Well, where does Resident Evil take place? Does it take place in Raccoon City exclusively? Well, I don't think so because the game has been in Antarctica, in Raccoon City, now it's in Africa. The game is constantly and so is the movie franchise. We're doing it very much in conjunction with the developers of the videogame to give the audience something fresh but something that fits within the world of the videogame."

The filmmaker wouldn't spill the beans on whether Resident Evil: Afterlife would center on Milla Jovovich's Alice or Ali Larter's Claire Redfield. "I can't say right now," he said, then laughed, "I'm no more secretive than Capcom. I was having a meeting with Capcom and I asked about the future of the Umbrella Corporation. 'The Umbrella Corporation has many secrets.' Well, what does that mean?!" [ full article ]

Director Paul W.S. Anderson spoke to the Sunday Sun about the possibility of Resident Evil 4 (October 5, 2008):

"I'm writing an adaptation of The Long Good Friday right now, set in present-day Miami. Then I will probably write Resident Evil 4."

Director Paul W.S. Anderson talked to io9 about the possibility of a fourth Resident Evil film (July 31, 2008):

io9: Are we going to see an army of Alices?
Anderson: We're in very early discussions about all of it, so it's not a definite thing by any means. Milla would like to return, and I would certainly like to see the franchise continue. Last year there were, I think, eight 'threequels' got released. Rush Hour 3, Pirates 3, Spider-Man 3...but there was eight of them. Shrek 3. Six out of the eight, the third movie did worse business than the second movie. There were only two where the third movie did better than the second movie. That was Bourne Ultimatum and Resident Evil. So, you know, it is quite an achievement for a franchise to keep growing like that, and we all feel that the audience is excited to see another one clearly. We would like, if we could put it together, we would do it.

io9: Right, but hypothetically how would you go about using all of those Alices?
Anderson: I'm not going to tell you that. [laughs]... but we would

io9: You would?
Anderson: We would, yes. Absolutely.

Director Paul W.S. Anderson talked to MTV about the possibility of a sequel to Resident Evil: Extinction (June 30, 2008):

"I'm just starting to talk to Sony about it. I don't even know if anything will come of it, but there's a possibility it might happen. I love the Resident Evil franchise and we always try to make the best possible movie we can. If we could find a good Resident Evil 4 to make, then we would do it. But I wouldn't just do it for the sake of it, that's for sure." [ article ]
---
Credits
[ For complete credits, check out the Internet Movie Database listing for Resident Evil: Afterlife ]
Directed by Paul W.S. Anderson
Written by Paul S. Anderson

Cast (partial)
Milla Jovovich .... Alice
Ali Larter .... Claire Redfield
Wentworth Miller .... Chris Redfield
Sienna Guillory .... Jill Valentine


Plot summary: In a world ravaged by a virus infection, turning its victims into the Undead, Alice continues on her journey to find survivors and lead them to safety. Her deadly battle with the Umbrella Corporation reaches new heights, but Alice gets some unexpected help from an old friend. A new lead that promises a safe haven from the Undead leads them to Los Angeles, but when they arrive the city is overrun by thousands of Undead and Alice and her comrades are about to step into a deadly trap.
Release date: September 10, 2010 (US)
---
Trailer screencaps from ResidentEvilMovies.net
Wallpapers (1024x768, 1280x1024, 1920x1080)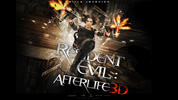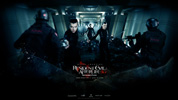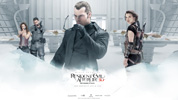 ---