Plastic Has Memory
Milla would like all her fans to know that Plastic Has Memory is no longer a band. She is now going to perform and record simply as "Milla".
---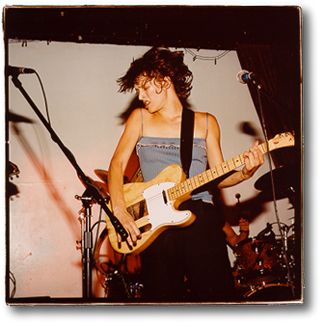 Milla sang and played guitar in her band Plastic Has Memory. PHM's sound was nothing like what we heard on The Divine Comedy - the mandolin/fiddle inspired folkiness is nowhere to be found. What we heard is in the same vein as Portishead - guitar-driven & dark with lengthy jams.

PHM played a few shows in LA & NYC in 1999. Mick Jagger showed up to one of PHM's New York City shows - Milla comments on Mick (RealVideo clip) in this article from MTV. The 2 large photos on this page are from a PHM show in '99 courtesy of Joseph.

Guy Demarco has posted some great MP3 clips of a few songs from PHM's June 24, 1999 show at Luna Park (West Hollywood, CA):

Lyrics to PHM songs can be found in the Lyrics Archive.
---
| | | |
| --- | --- | --- |
| | Milla & Plastic Has Memory perform "On the Hill" on Hollywood Goes Wild, a benefit project with a portion of the proceeds benefiting the Wildlife Waystation. For more information & ordering instructions click here. | |
---
PHM played a few shows in LA & NYC in 1999. The following is a list of some of those shows:
Luna Park (West Hollywood, CA) 06.17.99 - review with pictures by Pieter Lessing

Luna Park (West Hollywood, CA) 06.24.99 - review by Guy Demarco

LA Times review of a Luna Park show

July 16 show at Spaceland was cancelled because they lost their drummer (has since been replaced)

El Rey Theater (Los Angeles, CA) 08.06.99 (opened for Remy Zero)

Luna Park (West Hollywood, CA) 08.12.99 - review from LA Times Magazine

Viper Room (Hollywood, CA) 08.15.99

Viper Room (Hollywood, CA) 09.06.99

Angel Grensanz Foundation (New York City, NY) 09.16.99 (CMJ Music Fest) - review from NY Rock, follow-up review from NY Rock

Arlene Grocery (New York City, NY) 11.01.99

Mercury Lounge (New York City, NY) 11.18.99