Oneworld 1997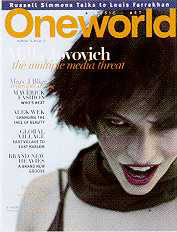 Milla's Melody: Multiple-Media-Threat Milla Jovovich Discusses Modeling, Music And Money
by Catherine Kelly
Nowadays everyone is a jack of all trades. Too many people are models-turned-actors, moonlighting singers and wannabe screenwrites. But if everyone is doing everything, who is good at anything? Let's face it, what you are known for may not be what you want to be known as. Milla Jovovich, model/singer/songwriter/actress, is a "regular" Renaissance woman. At a tender twenty-one she has released an album, flirted with supermodeldom and appeared in good and bad Hollywood flicks. In Spike Lee's new movie starring Denzel Washington, she plays the part of a hooker. Some know her as a model, though she probably wouldn't introduce herself as such. Let the world decide.
How did you begin acting and modeling when you were very young?


My Mom was a famous actress in Russia. She was popular in the '70s. When I was little I wanted to do what she was doing. I wanted to perform. I started acting when I was nine. I was in Two Moon Junction and a couple of small parts in Disney movies. I was in Return Of The Blue Lagoon when I was thirteen but I started modeling when I was eleven. I guess modeling started me. I wasn't doing much until I started modeling. I was so little, it was very controversial. A lot of right-wing groups were ragging my mom.
Are you close to your family?
I grew up in a Russian household. It was very strict. When I was little I had classes everyday after school. Acting classes, ballet, jazz, tap and piano lessons. I was on a schedule. I was really supported by my family. I am an only child and right now my family is the strongest thing in my life. My parents are my best friends.
Did you do all of the songwriting on your 1994 album, The Divine Comedy?
All the words and the melodies.
How old were you?


When I wrote the words I was like fourteen or fifteen. When I recorded the album I was like sixteen or seventeen.
The songs were mature.
I love the songs themselves. I feel like in the end it turned out to be more about the producers than about the songs. There were these violin sections. So much production went into it. I thought the songs on just the acoustic guitar were really beautiful. They didn't need all of that to make it beautiful. Especially since they weren't changing the structure of how I wrote the songs. It was just adding all of this stuff. They were putting their stamp on it.
Do you think that happened because you were young?


Well, I think when you have your first experience doing things you are not always going to put your foot down. You may think, 'he is a professional.' I didn't know what to say. Now it's, 'aay, don't do that, don't play that.' I am sorry but you have to come from a certain genre. You just have to have a feeling for a dope beat. Something really slamming you can't just copy. That is what I want to work with now. At that time I didn't really understand the elements of music. I knew what I wanted in my heart and in my head, but I didn't know how to get people to bring it out. Now I understand so much more about what every instrument adds. I know so much more about music. I know what direction I want to go in.
Speaking of a dope beat, I understand you used to be a little bit of a b-girl.


I love hiphop. I grew up in L.A. listening to hiphop. The guys I knew all listened to hiphop. Some of them were hardcore, most of them were just poseurs. I knew every little white boy from Beverly Hills that wanted to act all hard. They were tagging and trying to rhyme with no rhythm at all. They were so popular, but they were just popular because of the pants they wore. They knew how to front. When in reality you would listen to their tapes and they would be so bad. And you are so embarrassed because these are people you know. Especially with hiphop because when it is good, it is so good; but when it is bad, it is really cheesy.
Who do you like?
I like Tribe [Called Quest] and De La Soul. I am not into the hardcore stuff.
I saw your performance at Arlene's Grocery the other night. Are you working on a new album?
I am still trying to write some songs and get them together for an album.
Are you signed?
EMI America closed, so I am trying to decide where to go. I could go to Virgin because Virgin is in that EMI group. I have always liked Virgin but I am in limbo right now. I just want to work on music. I don't want to tell anybody because I don't want them to steal it. If you show your music to the record companies it's theirs. They will take it.
I understand you owe your record company some money.


I was so young, starting in all of this. I was a kid playing with the imagination of a child. When I was modeling at eleven I would bring my dolls to shoots. I would play. Between getting my makeup and acting sexy. Whatever. I was imagining. I was being my mom. I was playing a role. I came into music and I wasn't aware. I am not good with money. I am a Sagittarian. I would sit around bull- shitting with producers for a few hours. That all costs money. It all adds up and nobody bothers to tell me. I took it for granted, that I had freedom but I was paying for it. I ended up getting a big bill from the record company. That is one of the problems with young people getting started they don't always know what they are getting into.
You are a model/singer/songwriter/actress. Is there something that is easier for you?
The music is really easy for me. Not playing the guitar. Guitar is something I am still not comfortable enough with. I feel like my best performance when I am not distracted by an instrument. I am not so good on it that it doesn't matter anymore. That is a challenge for me. Performing is so wonderful. I love it. Everyday I am learning more about myself. Catching moments. It is so in-depth if you want to take it there. It can be so real, honest, so that people can be hit by it. Acting I need to work like hell so that by the time I get on the set it is very natural. Acting is some- thing that I am learning to have more control with.
At one point you quit modeling, what made you come back?
The money. (Laughter) I quit when I was fifteen or sixteen and unrealistic. There was a lot of personal, financial stuff that made me go back to it.
What made you want to quit?
It is a really wonderful career. It is like a lottery ticket. Every time I get a job I am thankful. For me it is so easy. Even when it is hard, when it is freezing or really hot. That part is difficult, jet lag, blah, blah. But it is exciting you meet cool people, (pause) well actually you meet a bunch of assholes too. But you make really good money. At the time, I felt like if I wanted to be a supermodel, I would have to quit acting, quit music and concentrate on modeling to be the best model I could be. Then I would have to work constantly and be on that plane everyday. For me, it was such a distraction. I couldn't play the guitar. I couldn't write. I didn't have time to read scripts. I didn't have time for acting classes. I didn't have time to nurture myself to be amazing at what I was doing. So I wasn't doing anything well. I wasn't concentrating on one thing. So I quit to work on music. I wanted to be a good performer. I wanted to go on tour. I didn't want to go on tour in America and be some mediocre artist. I really wanted to be comfortable on stage. Give people something to see. And with the kind of schedule a model has for a few years it was impossible. There is always that one great job, that one more thing that you can't say no to. Modeling is great when you have talent, dedication and you really put the time in. Without that you are just another moment. Models only have a few years. For me it is like from eleven to twenty-five, which is a long career as a model but after twenty-five or twenty-six, you're old. In this business there is always the new fourteen year old girl, the new fresh face. You just can't compete. I can't deal with that kind of insecurity; I am not strong enough as a woman to deal with htat many young, pretty precocious teenagers. For me, I need to concentrate on evolving myself. I don't want to be mediocre.