Premiere (France) December 1999

Hôtel California
---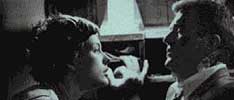 Downtown Los Angeles
A deux pas des tours de bureaux, Main street traverse un quartier encore ignoré des efforts de réhabilitation de la mairie et des promoteurs. On y mendie, on y deale, on y filme. L'édifice, qui a inspiré le scénario de The Million Dollar Hôtel et qui constitue le principal décor du film, est vieux de 80 ans, ce qui, à la vitesse à laquelle Los Angeles se réinvente perpétuellement, en fait quasiment un monument historique. L'hôtel, dont les jours de gloire remontent aux années 30, est devenu un refuge, un lieu de passage pour toutes sortes de gens aux destins tourmentés. Le chanteur Bono a découvert l'endroit a l'occasion du tournage d'un clip avec U2, il y a plus de 10 ans, et s'est rapidement mis a jeter sur le papier des idées pour un scénario de film. Win Wenders, rencontré lui aussi sur le tournage d'un clip, a été séduit par le projet. Et Nicholas Klein, qui avait déjà collaboré avec le réalisateur sur le scénario de « The end of Violence », s'est remis au travail avec Bono.

L'action du film se situe dans un futur proche
Wenders insiste sur le fait qu'il s'agit d'une histoire d'amour. Milla Jovovich et Jeremy Davies (remarqué dans « saving private ryan » et recommandé à Wenders par Sean Penn) interprètent deux marginaux un peu paumés qui se cherchent. ET qui se trouvent. La rumeur dit même que, pour se préparer à leur rôles, les deux comédiens se sont installées dans l'hôtel avant le tournage pour mieux se laisser pénétrer par l'esprit du lieu. Mais au cœur de cette histoire, il y a aussi un crime et une enquête, menée par un policier d'autant plus raide qu'il porte une minerve. C'est Mel Gibson qui joue le rôle du policier . Et Jimmy Smits en rupture totale avec son look de gravure de mode de « NYPD blues » celui du truand. Amanda Plummer, Peter Stormare et Gloria Stuart, remise a flot par Titanic, complètent la distribution.

Un européen sur les collines d'Hollywood.
Financé pour une bonne partie par les avances sur les ventes internationales versées par Icon, la société de Mel Gibson, le tournage s'est deroulé l'hiver dernier avec des moyens techniques réduits au strict nécessaire pour réduire les coûts. C'est le deuxième film en trois tourné a LA par Wenders dont l'œuvre, après nous avoir fait voyager de Berlin a Lisbonne en passant par Tokyo, semble désormais résolument ancrée dans le Nouveau Monde. Le réalisateur connaît en effet parfaitement la ville puisqu'il a ses quartiers dans les collines d'Hollywood. Mais entre les nombreux Allemands de l'équipe technique et l'irlandais Bono au scénario, L'ambiance sur le plateau reste très européenne. Bono qui sera également crédité parmi les producteurs, fait un brève apparition dans le film. Et il est question de quatre nouvelles chansons d'U2 pour la Bande originale.
The Million Dollar Hotel pourrait sorti aux States avant la fin de l'année, afin d'être dans la course aux oscars. Et il semble également parfaitement en mesure de postuler pour une place dans la sélection cannoise.