The Face June 1997
How To Get Ahead in Hollywood
by Alison Powell
You Could Tie Yourself Up With Bit Parts And Dues-Paying Till Your Big Break -- Or You Could Be A Smart Model/Actress With Good Timing And A Lead In Luc Besson's "The Fifth Element". Like Milla Jovovich.
---

Milla Jovovich is casually pruning her bikini line with a straight-edge razor when I come around the corner to talk to her while she is prepped for a FACE photo shoot. "Oh, sorry, you probably want to be alone," I mutter. "Nah, that's OK," the 21-year-old Russian-born model/ actress/singer-songwriter drawls in a Spelling-perfect Southern Californian accent. Suddenly I'm asking, "What happens when you get an ingrown hair?" "What happens when *you* get an ingrown hair?" she flings back. Fair question, but then no one is taking pictures of me spread over a bathtub in a Manhattan hotel penthouse wearing nothing but tastefully-cut rubber. But for the former teen-model the art of shaving in public was probably perfected from the moment she grew her first errant hair.
Emigrating from Kiev to the US with her parents in 1981, the now mono-monikered Milla arrived in California at the age of five and finally settled in Los Angeles, where her actress mother quickly enrolled her in acting school. Modeling since the age of 11 (including a Face cover in 1988 at age 12), when it came time to ease her into talkies Milla was a natural to strap on Brooke Shields' limp loincloth for to the sequel to the early-Eighties sea-and-sex epic The Blue Lagoon, imaginatively entitled Return to the Blue Lagoon. Since that time she's taken on a small but scrambled handful of films: she got an early start on those thankless wife and girlfriend roles alongside Christian Slater in 1992's Kuffs, upgrading her stake in that genre later that year with Chaplin, then put the dazed into 1993's Dazed and Confused. Audiences may have had trouble placing her, but her cool European beauty and runway poise did add a certain polish to each of these less than blockbusting outings.

Now comes The Fifth Element, a big-budget futuristic visual feast that boasts Luc Besson as a director and A-list names Bruce Willis and Gary Oldman acting alongside Milla, who herself stars as the movie's delicate linchpin, Leeloo. Shrouded in secrecy until its premiere at Cannes, The Fifth Element is expected to answer that eternal Hollywood teaser: must money, taste and action be mutually exclusive? For Milla it offers her own breakthrough potential towards biugger things. She may play an interstellar sweetheart in a Gaultier-designed bungee-cord, but Leeloo herself gives an actress plenty of room to stretch: she's not strictly real and speaks in an alien language through much of the film -- and when she does speak English it is with a kittenish Russian accent. But as Willis dives for cover and rolls over broken glass for the zillionth time in his career, the film rides heavily on Milla's lean frame.
As might be expected from the product of an LA children's acting school Milla is, well, professional. She uses phrases like: "I'd rather make money than be cool, that's for sure"; she is intimidatingly matter-of-fact about her precocious CV; distinctly cool when you ask about how she scored a record-company development deal for her songwriting at the age of 14. That particular episode began when her label A&R man spotted in her a saleable and ready-made pop-pack of fashionability and talent, marking her out to grow into a new kind of Kylie (the label even tried to get her to record a cover of the Isley Brothers' hit "This Old Heart Of Mine"). Milla, however, took the money and ran for London, eventually fulfilling the contract in 1994 with an album ("The Divine Comedy") of ethnic-sounding folk. With mandolins.

The album was successful to a certain degree; there were surprised critical murmurs that "it wasn't all that bad". And the video for a mild hit single from it, "Gentleman Who Fell", turns up periodically on the final recycling-point for the most tossable of disposable culture, Beavis and Butt-head. But her response is gratified not mortified: "Not only did they say my video was cool, they were like, 'Oh my God, that was her butt! She's naked! All videos should be like this.' It doesn't bother me that they selected me for their male chauvinistic piggeries. As long as they say I'm cool I'll conform to their system," she says, with what again might be termed professionalism. Of course, in Beavis & Butt-head's universe, conforming to the system means that her next video should feature Milla doing the splits on the hood of a Camaro. That seems less than likely, frankly, but Beavis, Butt-head and the rest of us have to wait and see.
Her tolerance of the pop-pubescents' prurience doesn't really imply much sympathy with the full-on rock'n'roll life that she would be well-placed to follow, though. She's happy to blow fashion's cover with a blast of modern morality -- through her eyes the Seventies cliche of champagne-soaked shoots and cocaine and cookies for teenagers is still all too alive. "Young people forget about all those people who came out of rehab with their noses falling off," she says. "They say, 'Hey, coke is cool again' and think if they just don't do heroin they're fine. The 16-year-olds are like, 'She's ruining it for us!' I'm not ruining it, honey, I'm saving your fuckin' ass."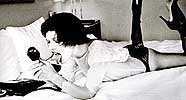 She's a lot less serious when asked about her famous cover for America's digest of cannabis culture, High Times. More goof than political statement as she tells it, the impulse to plant her teen idol mug in the spot more usually filled by that of grateful deadbeats like Jerry Garcia was simpy to appear on a cover where the lipstick credit wasn't the main event. It was a stunt that lost her few if any of her fans, and points up a devilish nature not usually associated with tawny mannequins. Her agent was displeased -- to say the least -- but perhaps in a testament to the public's inability to pin down exactly who Milla is, or simply in a response typical of America's current permissiveness, her link to pot hasn't dented her career. Just try to use a public phone or catch a bus in New York right now without leaning up against her likeness, yuppified for an ad campaign for a major sportswear chain.

The fact that she still is spending a hefty chunk of her time earning her living as what the Japanese would call a "magazine actress" is testament to her determination to, as she says, "make lots of money". Drifting between her mother's house in LA and the New York apartment of her boyfriend, photographer Mario Sorrenti, she plans to buy something, somewhere, soon, but first she has to amass the cash needed for a down-payment -- and for now modelling still offers the path of least resistance. With no shortage of film offers to do lucrative movie trash, the real motive behind taking on The Fifth Element is to pledge to work only with good directors on classy fare, as opposed to such professional sliproads as Kuffs. When pressed about what she's got on the hob she confesses that she is nervously staring down the barrel of a meeting with Woody Allen, who is famous for throwing talent into auditioning's version of an unheated pool. She needn't worry, though. According to Besson, after eight rigorous months of coaching and study in preparation for the film, "She can play anything. She's a warrior now."